Catch and Release Fishing
Catch and release fishing in Wisconsin's northwoods has grown popular over the past 20 years. Bass anglers today realize that in order to preserve the sportfish we love, we need to free the fighter. Trophies and world class fisheries don't establish themselves overnight. It takes up to 20 years, and a lot of annual catch and release, for a lake of average fertility to grow a 20 incher.
While most serious smallmouth bass anglers diligently practice catch and release and are stewards of their waters, some anglers and groups out there don't follow our same program, as enacted by the Wisconsin Department of Natural Resources. These folks may even disregard catch & release regulations and conservation altogether. To increase the acceptance of year-round catch and release, and for the state of Wisconsin to continue increasing the number of designated trophy (18 and up) fisheries, participating anglers must understand the biology of smallmouths in order to become conservation-minded.
Smallmouth Biology
The purpose of catch and release angling is to increase and improve size structures. This procedure works best on waters where the lake's entire fish population is well balanced amongst predator fish species and prey. In other situations, catch and release also improves population abundance, but on waters whose biomass is unbalanced.
Most smallmouth bass lakes in northern Wisconsin contain healthy levels of reproduction, and adequate spawning habitat with first year recruitment. These are all self-sustaining fisheries. Unlike certain put-and-take fisheries, smallmouth bass are rarely ever stocked fish species. In order for these fisheries to keep sustaining themselves, and to rear quality smallmouths of every adult year class (or have a fair chance), spring catch & release regulations must remain, and voluntary catch and release of trophy specimens throughout the summer and fall months must be self-enforced and still followed.
Not every water is able of rearing trophy smallmouths. Preventing factors are infertility, marginal habitat, angler overharvest and mortality, and smallmouth population overabundance and stunting. No matter the regulations enacted, these lakes might never see any improvement in quality of fishery.
Assuming good regulations such as seasonal catch & release (spring, and I someday hope for the same in fall), and increased size limits are implemented on waters with at adequate habitat and environmental factors, there are a few measures conservation-minded anglers can do to maximize the effectiveness of smallmouth bass protection.
Not every smallmouth bass water can be managed into a world class fishery, but many existing fisheries that haven't yet reached their ceiling for potential can still be improved. The road to get there can all be done with the information below. With self enforcement and continued progressive management tactics and implementation of trophy regulations, the inland waters of northern Wisconsin have never healthier, and more populated with big smallmouth bass.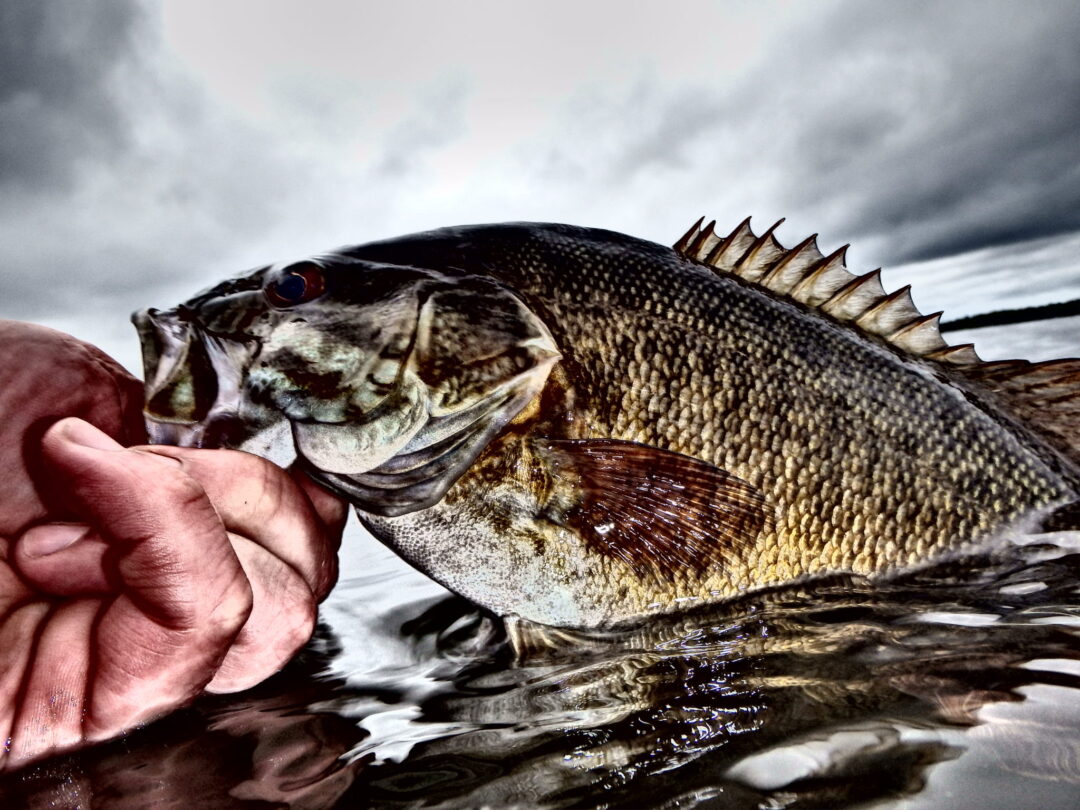 Proper Catch and Release Guidelines
Here are some basic guidelines to help ensure smallmouths their continued survival in catch and release fishing:
Use artificial baits and pay attention to your lines.  When using live bait, smallmouths are prone to swallowing everything into the esophagus and stomach.  When this happens, pulling on the hook can cause internal damage, and never attempt hook removal as it will cause bleeding and delayed mortality. Simply cut the line or the hook, if you have cutters. In many cases, smallmouths will be able to eat with hooks embedded, and eventually they can dissolve and pass through the bass's digestive tract.

Use equipment that will allow you to retrieve your catch quickly and minimize stress. Overplaying fish causes a buildup of lactic acid, which is a silent killer of fish.

Prevent barotrauma when hooked in extreme depths. Burst swim bladders are a common occurrence during the extreme hot summer season and fall season when bass are suspending deep in the water column, or are wintering in deep holes. Bring bass up from all depths with care, and to play them slowly when hooked from water greater than 20ft. Meticulous care like this prevents barotrauma (burst swim bladders) from taking place. This will ensure successful release.

Minimize handling at all times: Avoid wearing gloves that absorb protective slime; Never drop fish onto the boat floor; Never keep out of the water for elongated periods or any time at all; Never keep your catch in a livewell for an entire day.

Avoid using mesh nets / Avoid using any nets at all during spawning season. Mesh nets simply tangle and destroy fish that are landed by them. We recommend using only rubber bag nets that protect fins and fish slime. We avoid using nets during the spawn season as egg bearing females can get stressed while thrashing around in them and it's not good.

Keep a supply of catch and release tools. Needle nose pliers allow you to maintain a grip on hooks for quick removal. Hook cutters and any small bolt cutters also allow you cut hooks out of fish from those that have been deeply hooked or gut hooked.

Revive and release. If it takes longer to get the fish back into the water for it to swim away (more common with trophies), support the bass by the belly and hold by the tail. Gently caress it through the water slowly, creating a forward swimming motion to help water pass through the mouth and gills. This will revive stunned fish, and exhausted fish. Hold onto fish until it regains power and swims away.

Refrain from using fish gripping tools and Boca Grips. These tools are known and cause damage and destroy jaw tissues…… plain and simple! Bass don't have teeth, so why is there a need for these things?

Do NOT participate in, or support, tournaments that are not DNR permitted.

I refer to these as underground events. Most don't comply with B.A.S.S. rules, are hosted by non-B.A.S.S. affiliated clubs, and are ran without DNR approval. Refrain from participation. Some of these events do more harm to fisheries than people realize.

Dot not catch & transport without tournament-grade, modern livewells. If it's a must, modern and completely working livewells will help ensure your catch survives a full day in possession during tournament fishing. Otherwise, poorly working livewells or coolers with aeration systems will lead to increased delayed mortality. My take is to avoid full day possession if the intention is to release at a 100% success rate.
Smallmouth Fishing Resources
Catch and release fishing in Wisconsin's northwoods has grown popular over the past 20 years. Bass anglers today realize that in order to preserve the sportfish we love, we need to free the fighter.
Be a Steward of Your Smallmouth Fishery
First and foremost, everyone should help educate others about the statewide smallmouth bass regulations and help enforce them.

Second, every major smallmouth bass fishery in the north country is managed for quality fisheries, and some are specially managed for a trophy component (zero harvest unless 18 inches and over). On these lakes, ignorance and complete disregard for the law is inexcusable considering signs are posted at boat landings. Catch and release signs and FREE THE FIGHTER posters are hung so that the fishery continues to expand and thrive.

Third, peer pressure done positively is another way to make sure that regulations are complied and the importance of trophy bass is understood. Don't be shy with folks you encounter or see on the water, and never ever hesitate to report poachers to the Wisconsin game wardens: 1-800-TIP-WDNR (800-847-9367)

Do not support any catch and kill, or catch and transport bass tournaments that are not DNR or B.A.S.S approved/permitted. We refer to these groups as underground club events. They are unethical and a disregard to adequate fish handling. Report these groups to wardens when observed.

Do not hire any fishing guides whose intent with customers is to catch and keep. You will know the intentions, when stringer photos of bass are posted on the internet, while researching for trips. Detrimental to some bass fisheries.

Discourage the use of live baits when fished on improper bait hooks as this is the number-1 cause of delayed mortality. Encourage all to use circle hooks instead.
Catch and Release Importance
It takes approximately 20 years to grow a 20 inch smallmouth bass. Anglers continue to release big fish so they can keep growing. Catches challenging the current Wisconsin state record are happening now more than ever before!

With proper handling, quick hook removal and rapid return into the water, the survival rate of bass is typically quite high.

We want smallmouths to protect their nests. Catching fish during spawning can greatly reduce the number of eggs and fry that survive. Catching fish off of beds, and stressing them out by overplaying and overhandling can reduce spawning success and a return to the bed. Immediately releasing fish and minimizing play will help reduce this effect. Avoid using nets altogether during the spawning period.

Who the hell eats smallmouths?