Fall Smallmouth Bass Strategies: No Shame with the Live Bait Game
By Andrew Ragas
Bass fishing purists and elitists revile it. The professionals consider it cheating. Tournament organizers and circuits ban it, and its competitor jersey-clad fishermen laugh at it in haste. At the turn of the coldwater period, what's an angler to do when nothing else in the tackle box works and the day is seemingly lost? It's acceptable to lower your fishing standards and have no shame with the live bait game.
The majority of anglers in the bass fishing community theorize that it's not a good idea to pull bass through the depths on live bait rigs. Fall staging areas and wintering locations tend to be deep on most lakes, often in the 25 to 50 foot depth ranges. Gut hookings, which happen from irresponsible rigging, improper hook selection and letting the fish swallow, coupled with barotraumas and un-releasable fish can take a devastating toll on a lake's adult bass population. Add in potential exploitation of the heavily concentrated schools of fish and there is a legitimate, serious argument against the practice of live bait fishing and targeting wintering smallmouth colonies altogether.
Of great concern, exploitation of fisheries is a problem. Smallmouth bass home to wintering areas and will not vacate them regardless of angling pressure and the exploitation that is on them. A unique behavior inherited from previous generations of the population's members, these fish will home on the same wintering areas for life. As a seasonal bass guide, I'll never take my guests to any wintering holes in October. It's a policy I always stand by because you never know what angler intentions are. If catch and release is not made mandatory this time of season, the affects of fall smallmouth harvest are devastating to the point of no future recovery. Few people have 20 years to spare before catching another 20 inch smallmouth again. If the state of Wisconsin implemented a mandatory catch and release fall season on smallmouths, identical to Minnesota's fall regulations, the argument against live bait fishing and targeting smallmouths at wintering holes lessens. I guarantee.
But what if live bait rigging is fished properly and responsibly with conservation and care in mind, with no mention of GPS coordinates and precise locations? Few anglers employ these tactics and procedures better than Forest County, WI angler John Amato does. Responsible fishing, with care for the vulnerable smallmouth bass population during fall, is the focus of this piece.
The Livebait Extraordinaire
From May season opener till the closing days of open water fishing, smallmouth expert and frequent partner, John Amato probes through the deep structure of mesotrophic and oligotrophic lakes of northern Wisconsin, locating and catching big smallmouths. In his mind, nothing beats jigs and craw imitation plastics, and skirted hula grubs worked through deep rock structure and steep breaklines. But when fish turn off working those same spots with live bait often transforms a non-bite into a bite, many times a good one for him.
A lot of anglers consider live bait cheating. But it's become acceptable when all else fails like when our preferred traditional fall strategies of deep water cranking, drop shotting, swim baiting, and jigging isn't catching them.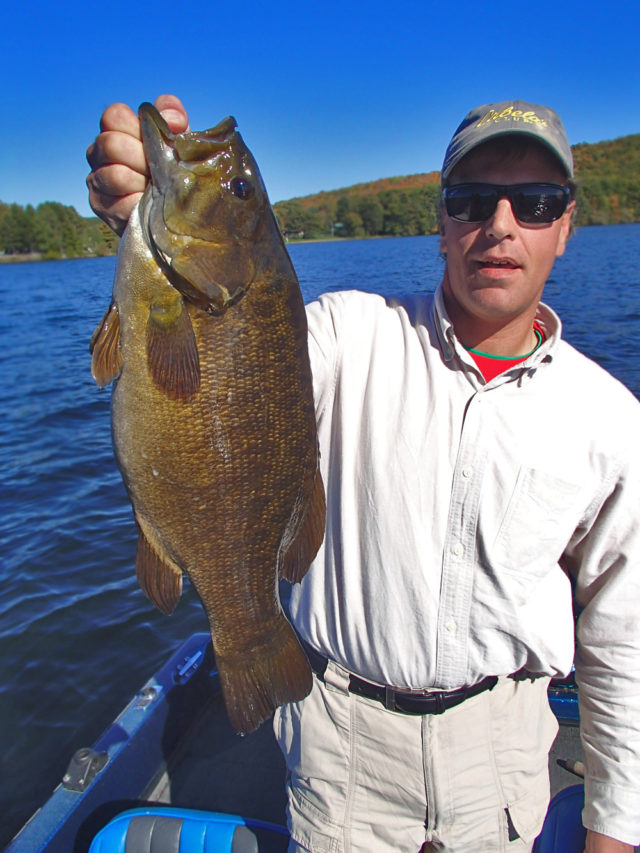 "I only live bait fish in the fall," says Amato. "I'd rather be throwing jigs and lures just as much as the next guy, but over the years I've learned that live bait fishing in the late fall just simply catches more, and bigger fish." When describing the scenarios and conditions that call for live bait, Amato only waits until the water temperatures get down to about 55-60, and lake's thermocline is thinning prior to turnover, before giving consideration for it.
Amato often sets up on the deepest, coolest, clearest and structure-filled lakes he can access by boat.
"Fall success varies by lake, and the smallmouths usually come in waves once located," describes Amato. "On one particular lake I fish, the action is always on and off. It seems one fish bites, turns on the pack, and you will get a few in a row. Then it slows again until they either return to the area, or one fish bites and they get active again." The oligotrophic lake Amato describes features many steep drop-offs that lead to multiple wintering holes. With a lot of deep structure and potential locations, Amato is forced to jump spots back and forth as activity slows and picks up again on these locations.
"On another lake, on a good day the action seems to go non-stop all day from just a few different areas," he says. The lake Amato describes here is a large mesotrophic lake of a couple thousand acres with fewer classic fall and wintering spots. Fish are easier to locate.
Amato has had plenty of incredible, memorable days of fall fishing with live bait rigging, including days of numbers and others of trophy size. Days of personal bests have happened in autumn too, including a monster surpassing 6 pounds caught and released with yours truly. This incredible fall success is attributed to his open-mindedness and lack of shame with the live bait game.
90% of the Smallmouths are Located in 10% of the Lake
In northern Wisconsin, smallmouth bass tend to set up in their wintering locations by end of September. Every fall Amato and I fish, 90% of the lake's smallmouths are located in 10% or less of the lake. Often, the greatest challenge is locating these fish and their likely wintering areas as you could easily spend more time motoring around several hundred surface acres searching for schools of fish with your electronics rather than actually fishing. Over the years Amato has acquired the skill and knowledge to identify likely wintering locations through mapping and applying his success from one lake on to another.
Smallmouth bass often identify their locations with pieces of structure. Wintering smallmouth are no different in their habitat preferences than the shallow oriented fish we catch during spring through summer. Regardless of season, smallmouths are always attracted to the lake's rocks, boulders, and the unique contours available to them at whatever depths they prefer.
"Smallmouth usually winter out on deep flats near structure of some sort; be it a rock/boulder field, or a big flat with humps or rock piles," Amato points to a map to showcase a fall hotspot. These flats can range anywhere from 25 to 50 feet deep, with typical winter zones in the 25 to 40 ft. range. "I usually look for long shallow bars like this that extend out to deep drop-offs and lead to deep flats, usually a good distance from shore. Fish will usually be near the transition areas at the bottom of the drop-offs in 18-30 feet of water leading to the deep flats," he describes.
Besides deep structure-laden flats, mid-lake humps can be productive also but lack the size and many of them don't feature points and extensions that drop into deep water.
In addition to deep wintering locations, Amato's livebait tactics work well along deep weedlines where both smallmouths and schools of yellow perch gravitate to for fall feeding. However, it's not an easy presentation to deliver when dealing with deep coontail or sandgrass. "If you have a good idea where the outside boundaries of the weedline are, or the open pockets between patches of deep sandgrass, slow drifting these areas can be deadly, especially if it leads to a deep flat."
Amato's favorite producing water temperatures are from 55 to 48 degrees. "A cold, north wind with cloud cover can help on some lakes, whereas other lakes actually are better when it's sunny," he concludes.
All lakes fish and handle differently. Amato and I commonly live bait fish on lakes with deep thermoclines, a lot of deep water structure and contour, and established smallmouth wintering locations. While Amato's live bait techniques have been applied to shallower lakes that don't stratify and lack defined wintering locations, he concedes that it's more difficult to establish the pattern on waters that aren't deep and don't turn over.
No Shame with Live Bait
A detailed-oriented angler, Amato has observed preyfish and forage relating to the same locations as wintering smallmouths; notably with crayfish, followed by massive schools of yellow perch and bottom-dwelling juvenile suckers.
On many northwoods WI smallmouth lakes, crayfish is the primary year-round forage. They occupy the same shallow habitats frequented by smallmouths in spring and summer. Then they winter and burrow themselves into the deep muddy basins of the lake, not far from wintering smallmouths. The predator and prey relationship between the two always drives year-round smallmouth location. But when crayfish burrow deep in fall, they are no longer the preferred smallmouth menu item of choice. Entering the picture is an assortment of minnow and baitfish species.
"These fish still can't resist a sucker minnow that flies past them while foraging for crays," grins Amato.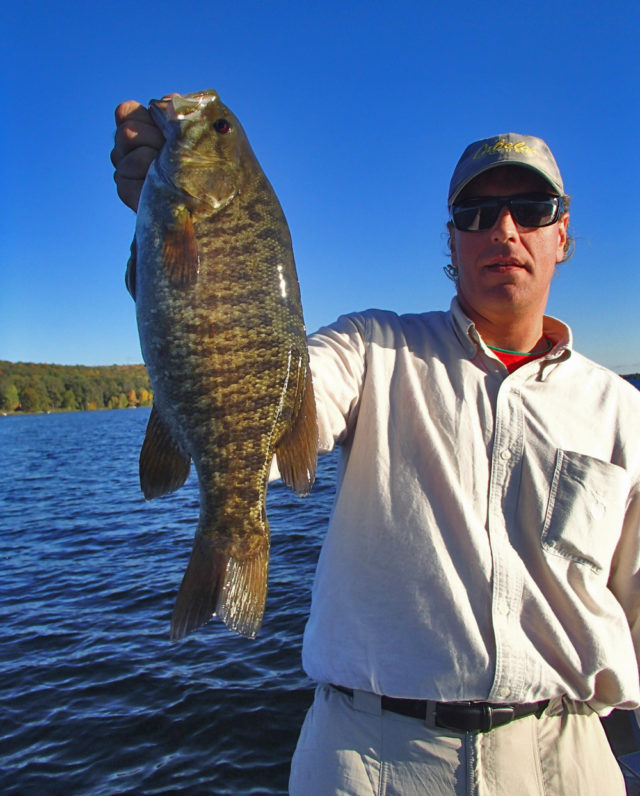 On our last few fall trips, Amato has proven the effectiveness and heartiness of walleye suckers. Most lakes in northern Wisconsin have populations of juvenile white suckers, and smallmouths are used to seeing them occupying the same deep rocks and wintering structures.
Most well-stocked bait shops in the north will carry these minnows, making them an ideal fall option. "They are hearty and easiest to get, for one. They're bigger than fatheads, liveliest of all minnows available, and present themselves as a heartier meal for a hungry fall smallmouth," says Amato.
Experts like Amato have learned to fish basic presentations. Just a hook and a fresh lively minnow like the sucker minnows he prefers. But rigging, bait choice, and attention to detail involving hook style, hook rigging placement, weight size and leader length demonstrate creative adaptations to specific smallmouth locations.
Amato employs the Lindy Rig, one of freshwater fishing's all time greatest inventions that has withstood the evolution of fishing and remains popular to this day.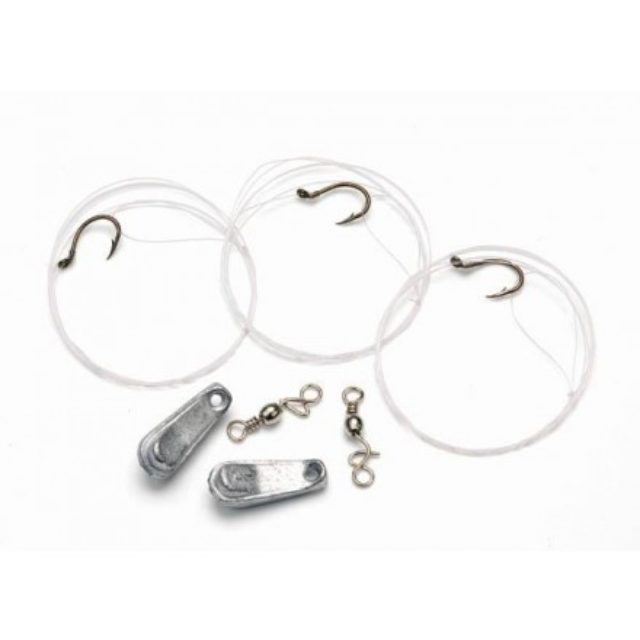 "My default set-up is a modified rig; 3/8 oz. Lindy walking sinker with a size 1 Gamakatsu Octopus hook. A small ball-bearing swivel connects the leader-line to the main line. Companies size their swivels differently, so for example from Bass Pro Shops I like size 24, and Eagle Claw I like size 18. Spro makes great swivels themselves, and I like sizes 12-14."
The night before his trip, Amato ties all of his leaders and usually carries a minimum of 10 pre-made fluorocarbon Lindy rigs before hitting the water. Adding to the efficiency of his rigs, Amato uses the smallest trout beads he can find to help protect his leader knot from fraying and weakening by the walking sinker.
To ensure catch and release, my recommendation is circle hooks only. However, my favorite for livebait smallmouth fishing has become Eagle Claw Trokar's TK 15 Wide Load Hook and TK7 Extreme Hook in sizes 1 and 2. These hooks have a wider gap than most traditional livebait hooks, and they're the next most-effective model to a circle hook that I've found. Trokar's assortment of circle hooks in the TK 619 variety is superb as well. What makes the live bait rig work is the liveliness of your minnow. 4 to 5 inch walleye sucker minnows, rigged from lower jaw through nostril, is most ideal and hearty, followed by blacktail and redtail chubs. The live minnow swimming in distress is irresistible to smallmouths holding deep. Amato meanwhile keeps things simpler, prefering size-1 octopus hooks from Gamakatsu.
Amato shares his steps for the complete rig:
1) Cut about 4 feet of leader-line, and tie the hook to one end, and the swivel to the other. After both knots are tied and the excess line cut off, you should be left with about a 3 foot complete leader. I use a Palomar knot for both knots.
2) Slide the Lindy weight onto your main line on the rod/reel.
3) Slide one bead onto your main line after the weight.
4) Tie the leader to the main line, I use a Palomar knot here also.
A lively minnow is undoubtedly the best bait. In order to give the walleye sucker ample action, Amato drops the rig in a vertical position beneath the boat and lets out enough line for the sinker to make bottom contact while the boat drifts. "It's never straight down while drifting. It's angled slightly up to 30 degrees. The bait should technically be about 5-15 feet in front of you on the bottom, getting dragged by the boat," he says.
As the boat drifts, the rig forces the sucker to swim a foot or so off the bottom. "This way, it's noticeable by every smallmouth in the area. The rigged minnow swims while being pulled slowly, so their fins are constantly moving and the restriction of the pulling weight prevents them from burrowing and hide from smallmouths," concludes Amato.
We are Suckers for Smallmouths
When Amato and I fish together aboard my Ranger 681VS, we frequently utilize my Lowrance HDS 12 electronics and side-imaging to pinpoint the deep ledges and rocks smallmouths congregate on. With aid of the wind and Minn Kota Terrova trolling motor to help keep us on course and spot lock us when necessary, we then run a precise drift course over the region fish are at.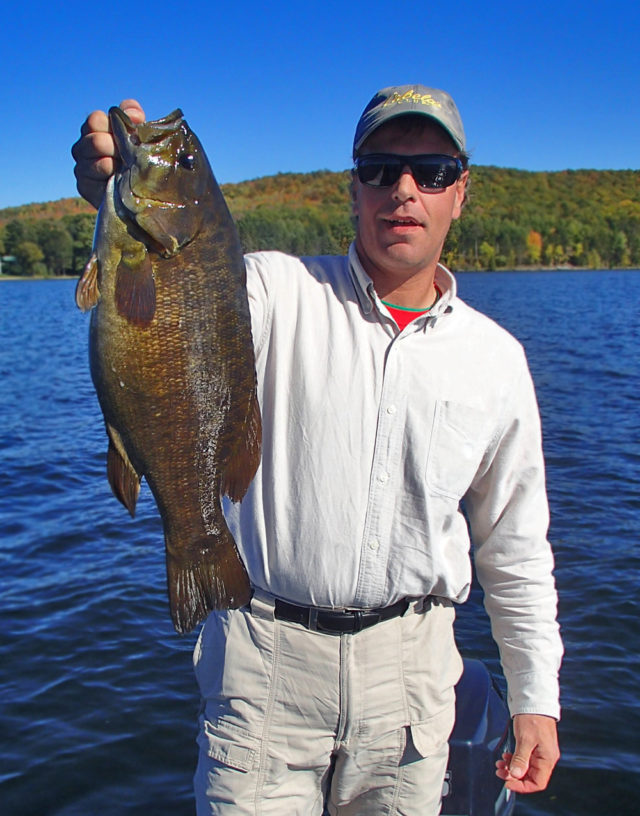 Amato's typical approach and drifting technique is relied on the wind. Speed and direction plays an important role in presentation and drifting.
"I use the wind and current to move the boat, and only use the trolling motor with small bursts to help stay on course. I'm always studying wind directions and how it relates to the spots I'm going to fish."
In Amato's experience, north and west winds seem to have the fish biting best in the fall. Although he's also had good days in the late fall with a south wind that can sometimes turn the fish on with a passing warm front. "Anything from 6-12 mph is a good wind to drift in. 15 mph or more and it becomes much more difficult to keep the bait on the bottom," he says.
Even though I have suggested the idea a few times, Amato isn't a fan of drift socks as they are a nuisance to operate.
"Depending on the wind/weather patterns for a specific day, you must get in the right mindset of what the day calls for, and game-plan the effective ways to use the wind to your advantage to catch fish. On calm fall days, I'll fish off the back of the boat and use the transom mount trolling motor with little bursts to keep the boat somewhat moving. Lindy rigging just doesn't work well without a wind, and your sucker minnow doesn't swim to entice smallmouths," Amato shares.
To swim and stroll the walleye sucker, spinning rods and reels are the preferred tackle. Amato fishes a 6ft 6in or 7ft medium fast action rod with quick tip and plenty of backbone to extract smallmouths from the depths. He usually has his rods paired with a Shimano Stradic 2500 size spinning reel.
"They don't show the exact same power and jumping ability as they would in summer, but pulling them up from 20+ feet with a small hook is no easy task. I personally like my leader line to be 6lb test fluorocarbon, but 8 works just as well. Your main line needs to be much stronger and have a little bit of stretch. This is where 10-12lb mono or hybrid fluorocarbon coated mono works well. Braided main lines work best to detect bites, but I like just a tiny bit of stretch on my main line to enhance my hooksets."
Drifting with the wind with a semi-tight line being dragged on the bottom, holding the line against your rod with an open bail is key. When a smallmouth grabs the bait, the bite is subtle, but you eventually get the hang of it, becoming easier to detect.
"When a bite is felt, immediately let go your finger from the line. If a fish has taken the bait, you will see your line slowly going away. After a few quick seconds, point the rod tip down while slowly bringing in your slack-line, close the bail, and set the hook with an upward motion. No need to set it too hard, it's more of a medium hookset. Too hard a hookset can pull the small hook right out of the fish's mouth. Too soft, however, won't be enough to drive the small hook into the jaw."
Another important point to mention is smallmouth will often drop the bait during the fight due to the small hook. When this happens, Amato instructs to drop the bait immediately back down to the bottom as the same fish, and perhaps another smallmouth will grab it again. These behaviors are common with the heavy feeding competition of fall.
The Call for Conservation and Care: Preventing Mortality
Despite the effectiveness, live bait fishing in fall for smallmouths poses several issues that most anglers seldom take into consideration.
While many northern Wisconsin live bait shops do splendid service in stocking the freshest and widest assortments of minnows, several of them fail anglers in equipping shelves and display racks with industry-standard fish hooks. Many locals don't have internet access or the same luxuries many of us do for buying specialty livebait hooks. If you sell the best baits, please do live bait anglers a favor by selling the best quality hooks to complement the minnows being offered.
Amato and I are proponents of mandatory usage of circle hooks and specialty live bait hooks that eliminate/minimize the probability of gut hooked fish. Not enough live bait anglers are using these types of hooks and it poses a serious problem for catch and release intentions and conservation.
The next issue of concern is over-feeding the fish your line, which leads to deeply swallowed hooks. "It's a balancing act of not waiting too long to set the hook, but also giving enough time for the fish to eat the minnow before setting the hook," says Amato. Waiting too long raises the chance of the fish swallowing the hook, and setting too soon will pull the hook right out of its mouth. "No angler can escape the fact that a gut hooking will happen occasionally, but this is where having the proper hook extraction tools comes into play," he exclaims.
Needle nose pliers and small hook cutters are must-have tools, but Amato and I agree the most important catch and release tool one must have if pursuing smallmouth bass with livebait is a Baker hook extractor. Relatively inexpensive, "There are quite a few smallmouth bass still swimming around right now who owe their lives to this tool!" proclaims Amato. "Even if just the eye of the hook is all you see, I still get them out 99% of the time, with little or even no damage to the fish. Simply clamp down on the shank just beneath the visible eye of the hook, and turn the handle. Works wonders."
While never a problem for Amato and I, barotrauma is a dangerous silent killer in summer and autumn when fish congregate in depths of 30 feet and greater. Anglers lack the patience and care to play smallmouths from the depths slowly. You can choose to fish for them, or you can look for them elsewhere like Amato and I often do.
"If fish are deeper than 30 feet, I leave them alone," says Amato. "Even if I'm marking them just off my spots but are over 30 feet deep, I'll stay under 30 nearby, in hopes they will come to me. Or I will simply look elsewhere where they may be shallower. Fish that deep are usually not active, and harder to trigger, so you'd be wasting effort on fish you have a much bigger chance of harming anyway," advises Amato.
However if choosing to fish extreme depths, slowly take your time fighting and playing the fish. I assure you that barotraumas and burst swim bladders will rarely happen. But having basic knowledge of how to fizz a bass swim bladder with needle will come handy if it ever happens.
Even when catching wintering smallmouths from any depths, it's important as ever to get late fall season fish back into the water quickly after being caught. Plus, the fish you just caught is almost definitely part of a school, so you want to get your line back in the water quickly before the school disperses.
"In the fall, smallmouth's energy levels aren't what they are during the summer, due to the colder water. Add in the fact that most of these fish are caught from depths of 20-30 feet, and the fish are completely exhausted by the time they are brought in the boat. Get your quick picture or two, and hold the fish upright in the water until it gets its bearings and strength back, and it should swim off unharmed rather quickly."
Exploitation and cruel intentions harms wintering smallmouth populations the most. Big smallmouths get harvested in the fall months, usually from walleye anglers and pan fishermen, and people looking for a trophy on the wall. For every big female smallmouth that gets clubbed over the head the action done is irreplaceable for the next 20+ years. "That's going to be one less bass that would have spawned in the coming spring. To me, it's almost as bad as taking a big bass off of a bed and keeping it," says Amato.
"It's all related, so if we can't take them in spring, we shouldn't be able to take them in late fall either," says Amato. As liberal as Wisconsin fishing regulations are, neither Amato nor I see the state implementing further northern black bass management to make our world class inland smallmouth bass fisheries catch and release-only, like they are managed in spring, unless there is overwhelming angler support and we experience a major trophy decline in our world class inland fisheries.
As we know, smallmouth populations are most vulnerable during the spawn, but their heavy concentrations and vulnerability in fall and winter seasons mirrors it.
"I've already observed anglers on my home lake specifically targeting smallmouth in fall to limit out on keepers for a fish fry. I've definitely seen a decline in the overall numbers, especially in the up-and-comer 14" to 16" range," concludes Amato. These trophy bass lakes of the present will be unable to sustain themselves for the long-term with the up-and-coming year-classes being harvested at rapid pace.
Live bait fishing for heavily concentrated smallmouths like Amato and I pursue during the fall is effective, and only recommended when done carefully and responsibly as this article promotes. Having lowered my bass fishing standards to accept livebait fishing these last few autumn seasons thanks to Amato's influence and intricate lessons, smallmouth comrades will come to agreement that deep water livebait fishing for smallmouths on the immediate catch and release basis and conservation principles Amato and I employ should not be condemned or despised. As far as we know, the open-minded bass anglers are usually the ones with no shame in their game and catch the most.
Comments
comments