The Last Cast Fish
Carl calls his catch, on the last cast.
On August 1-2, I hosted Carl from Chicago for a 2-day marathon. His first ever visit to fish northern Wisconsin bass. This would be his last time angling for a while due to health concerns and medical treatments. On the final day of the trip, last lake, last spot, and last cast of the trip, Carl hooked into a special fish, the largest of his trip.
We had turned our 8-10hr full day trip into a 12hr day. Before we knew it, 60 fish came to the boat between us. Who wants to quit fishing in midst of such awesome fishing? When that's the scenario I will not leave the lake regardless of anyone's time or schedule. So, come prepared.
I had battled winds for us all day with aid of spot lock, and the trolling motor was finally exhausted, on its last life. We had time to visit and quickly cast 1 more spot before heading in to the landing.
I saved the best spot in the lake as our last spot. It's a big fish zone for me, spring thru fall. A long reed and rock point with steep slopes into deep water. As we pulled up to conclude our trip, I instructed to Carl, "I saved the best for last. It will hopefully produce at least an 18 incher for you."
I didn't bother to cast it, prioritizing boat control, letting Carl have the only crack at it. A couple casts and working his tube jig through, Carl was having enough and proclaimed he would catch an 18 incher on his last cast. Fed up, and with a brutal wind knot in the spool with 15lb. Cortland Masterbraid, he let one out anyways. Had nothing to lose.
"I am going to catch an 18 incher!"
It was difficult to feel any strikes due to wind. The passing coldfront had affected feeding, with bites turning from aggressive to light. After letting the tube sink, Carl had felt some weight at the end of his line and authoritatively set the hook. A smallmouth had inhaled his jig!
The fish was a drag puller. As it leapt 2 feet into the air in attempt to throw the tube it engulfed, I grabbed the net in anticipation to net Carl's fish. Seconds later, into the Frabill entered Carl's 19 incher. A golden beauty!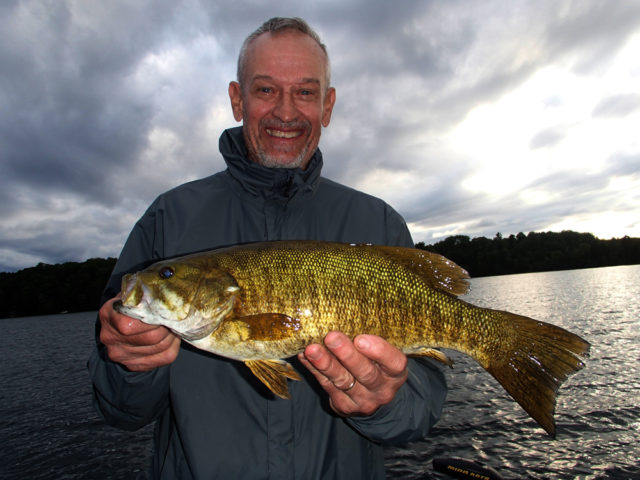 I was in shock. Speechless and in disbelief of what had happened. Who catches their biggest fish of any trip on their last cast? Carl meanwhile was elated, and every adjective used to describe a moment of happiness here was appropriate. After quick high-fives, photos, and a safe release, we decided then to call it a trip.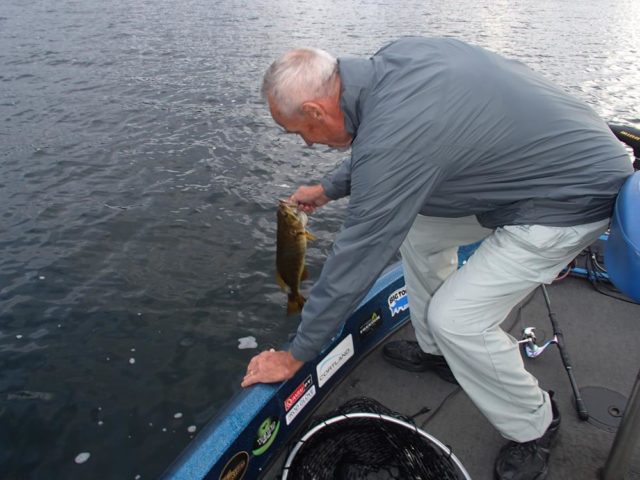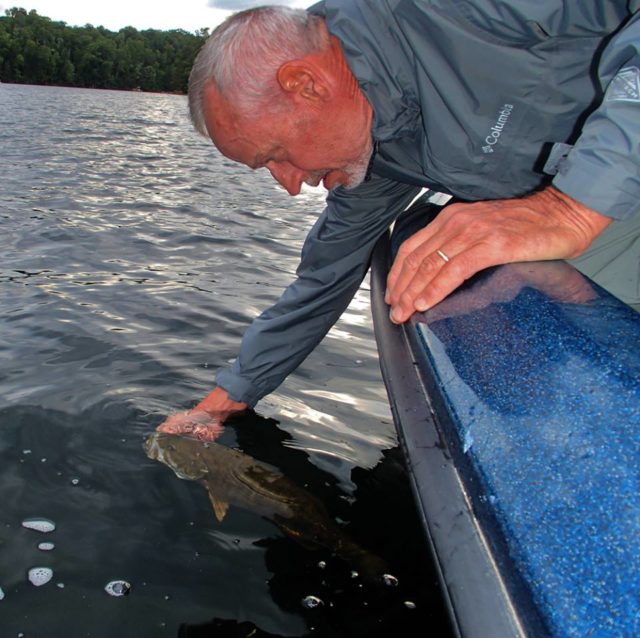 After returning Carl to his hotel, I tried my best to comprehend everything that transpired. I had never seen anything like Babe Ruth in my boat before. Yes, the last spot we visited was the best area of the lake and I knew what could be coming. However, I did not believe what I saw. A guy caught his biggest fish on his last cast of the trip. I feel a higher power aided Carl, and wanted him to catch it. It was a gift to a good guy who will be unable to fish for the next year due to one of life's unfair complications.
While not every trip can have such a storybook ending, special moments and happy anglers like Carl is the reason why I share my passion and resource with others. Not only are big smallmouths a daily possibility, but so too are catching memories like this one. Carl and I will remember this moment for the rest of our lives.
Comments
comments