Northwoods Bass Fishing Report, Late August thru September 2017
The bite recently has been extraordinary. In the past few weeks, we've caught a PB near 7-pounder, a handful of 21's, and a number of 17-20's. Great weather can lead to great fishing. The activity and behavior of bass is correlative to the weather and conditions of their environments. When conditions are stable, fish locations and feeding is more predictable.
The waters have been flat, calm, and baking in sunlight. Lots of days with south and SE winds – all hurricane influenced. Despite the warmth, bass are moving and schooling, frequenting depths of shallow for feeding, and deep for homing and sanctuary. Some lakes have been excellent, while others have been poor. It really depends on whether the water body has active feeding fish, and if the entire food chain is active itself. One important observation I've made is that when the baitfish are out and about, so too are bass. In the past week and a half it seems as if 1 out of every 2-3 lakes is fishing well. If the bite is poor, travel to the nearest, next waters on the day's agenda.
Success has varied on a lake by lake basis, but one thing's for certain; this time of year, the end of my bass fishing season is near. Fall doesn't offer great steady fishing for numbers unless you have sniped in on schools and their congregations, but what autumn does give up are some big ones. In my boat right now, we're chasing giant bass in open water and amidst baitfish schools, and along deep green weedlines, looking for that best bite of the year, and catching our late-season home runs. Keep reading and you will see my PB, near 7 pounder that was caught a few weeks ago!
I didn't have any guided trips since mid August due to weddings, work, and traveling, but have fished a ton and explored new waters with friends and other guests. First time this year I've gotten to do some much needed multi-species fishing too.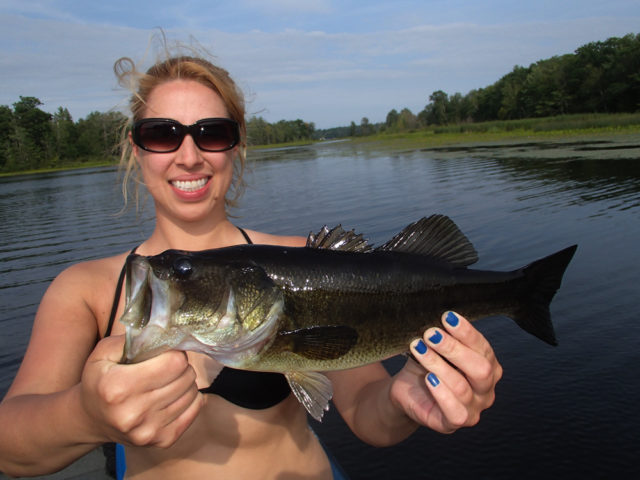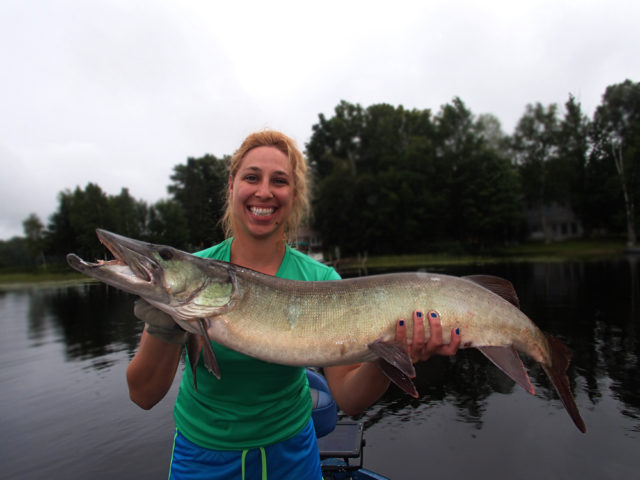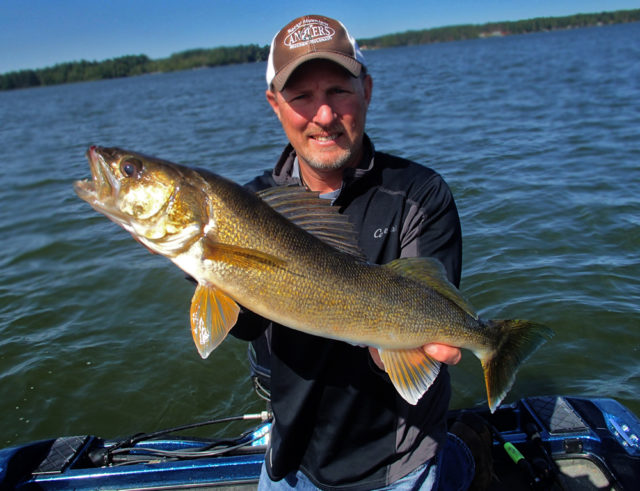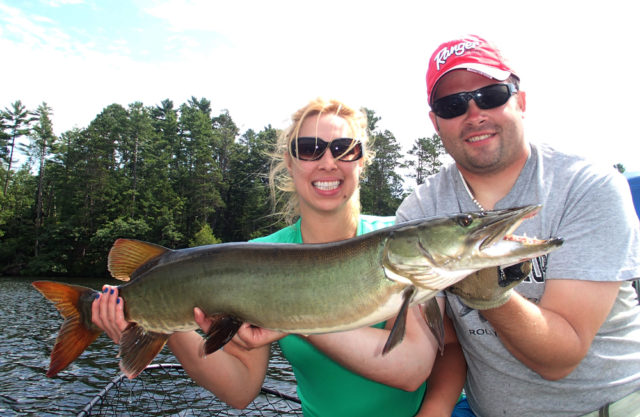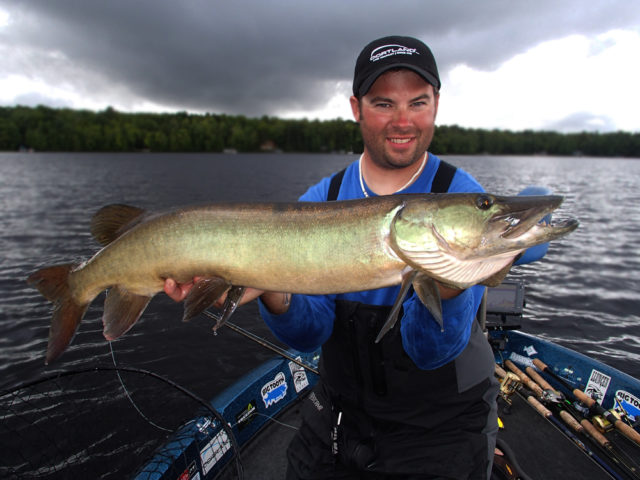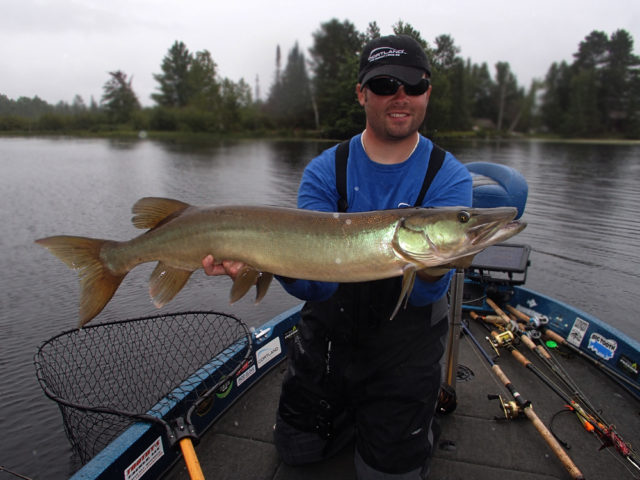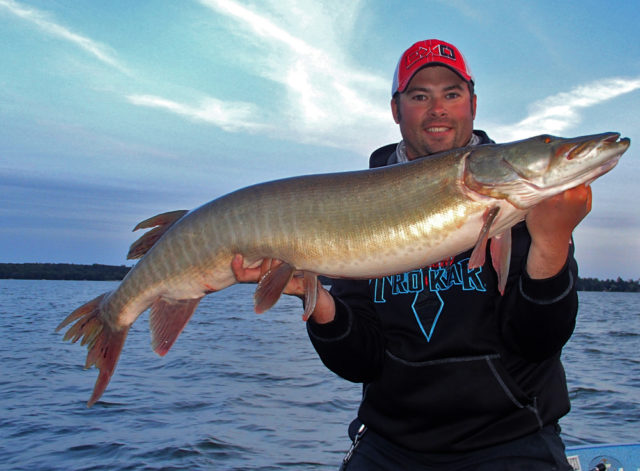 Okay, back to the main event…. big smallmouth bass……..
Steady SE winds and bluebird skies has led to more difficult fishing conditions on some days. Water temps holding steady between 64-66 degs. I've found mixed results from each lake I've recently fished.
There is some deeper water schooling taking place and I've been marking lots of active and inactive bass at the 15-20ft depths adjacent to some type of structure whether it's boulders, ledges, cribs……. and even in the neighborhood of wintering sites. Active fish will be a few feet above bottom – while inactive ones pegged down.
We've been locating smallmouths in all depths, as shallow as 5ft to as deep as 15-20ft; seeking the active ones first with search lures worked along feeding flats and breaklines, and humps. Catching up to a few from each spot fished. If worthwhile in size and a school is present, I've camped out on them much longer for more bites.There has been a lot of consistency with swimming plastics and swimbaits fished to imitate yellow perch and ciscoes.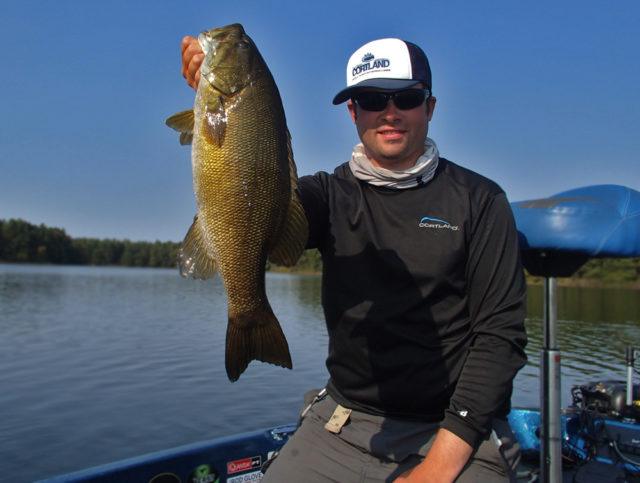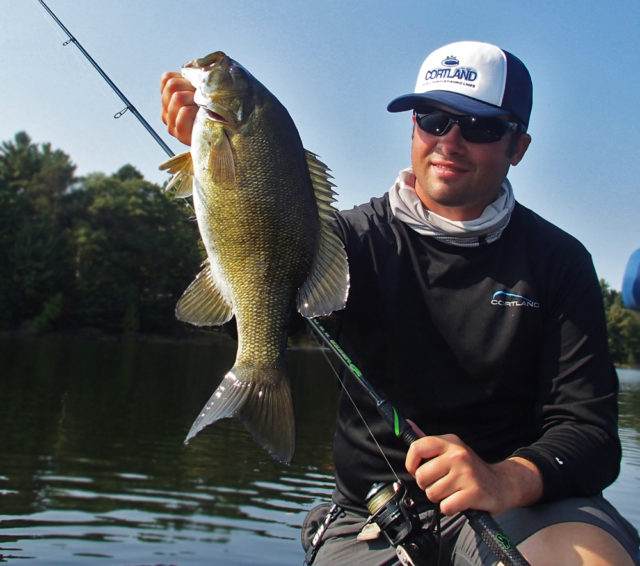 The two fish above measured 19″ and a 21.5″. Had one fish even larger and heavier break me off from a great distance away. They were clobbering jigs and swimbaits (4″ Kalins and Strike King versions) swam along sand and gravel flats, and even up into vegetation.
Right now we have both shallow water movements like the above for feeding, and deep water movements for wintering. What was a bite once dominated by rock structure and crayfish, only a few weeks ago, has now developed into a weedline and open water baitfish and preyfish bite. However, fish are still using both, and even setting up near their wintering locations, only to settle into them once turnover has completed. Thanks to the change in seasons, the first series of cooldowns will be taking place next week, dropping our mid 60 degree water temps into the upper 50's for certain. Water temperatures will only keep getting colder from here.
Even though fish are dispersed on many locations right now, I love the challenge and increased chances of catching giants right now.
I always look forward to this time of season as more bass will be moving into the shallows and feeding on baitfish until turnover period (55-58 deg range). A pattern I like to capitalize on for this time of season is locating migrating schools of yellow perch along the deep and still green weedlines. Usually I find this dynamic in depths from 5 to 15 feet.
These perch schools (often times massive schools) will be found in sand grass, and along the deep edges of weedlines (cabbage beds best). A lot of traveling schools of smallmouths can be located nearby along the deep edges following these perch schools, and corralling perch in the shallows. Swim jigs with my favorites being a Jonn Graham Warrior Jig and Super K Jig catch lots of bass. Then small compact swimbaits and rip jigging with paddletail plastics like a Kalins Sizmic Shad and Strike King Rage Swimmer catches tons. In addition swimming grubs rigged on an 1/8oz. Freedom Tackle Corp. Hydra ultra-light, suspending jerkbaits, flukes, lipless crankbaits, squarebill crankbaits, and carolina rigged minnows can all capitalize and are my favorite techniques to catch these weed-oriented smallmouths. Look for this pattern being HOT on a lake nearby you. Meanwhile, largemouth bass will apply themselves to this same perch pattern as well on lakes they reside in.
As the perch pattern is happening in what remains of the green weeds, smallmouths are also setting up in areas with deep structure in preparation for late fall and winter. These fish are being located in small schools along shallow and mid depth humps with access into deep water, main lake points and secondary points, flats, and deep offshore points and rock humps. I've been catching fish from these areas on deep diving crankbaits, football jigs, hula grubs and tubes, and swimbaits.
Speaking of swimbaits……
My boat has been on an epic cisco bite lately. We have witnessed that some of the largest bass in lakes with cisco forage will set up on structures nearby deep open water locations, preferring feeding on this pelagic baitfish species year round, and doing their best to avoid being caught by the masses of anglers. Slinging paddletails and swimbaits, and deep cranking in and around open water isn't a confident strategy for most anglers, and the impatient. You might only get 1-3 bites for the day, but the probability of them being giants and "PB Potential" will be exceptionally high.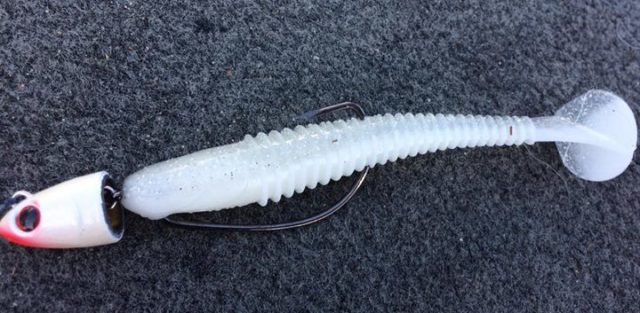 All summer long I had patterned cisco locations and smallmouth feeding habits. A lot of casting, and a lot of near misses and no strikes. Knowing where the big fish are is one battle. Triggering them to strike is another challenge. Throughout the process a number of swimbait concoctions and riggings were tinkered with. No bites with any them, until some recent adjustments were made.
I went from jigs and bullet heads, to the best of both worlds; the Freedom Tackle Corp. Hydra. I have fished Freedom lures religiously since 2013. The interchangeable lure characteristics and swinging arm properties of these jigs enables maximum movement of your baits and presentation, in addition to preventing big fish from eventually throwing hooks on you during a jump, and in the fight.
With the Hydra rigged with a favorite Trokar hook, my swimbait has a wider side to side kick and more powerful thump to trigger strikes. When swam with a slow to medium retrieve, the jig head itself shivers and quivers with heavy vibration, catalyzing the movement for this entire big fish catching package.
The wobble with the head as it cuts thru water makes my tails kick wide and hard, and grab the attention of huge bass.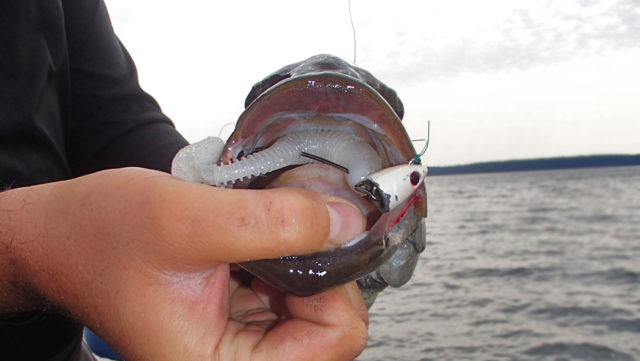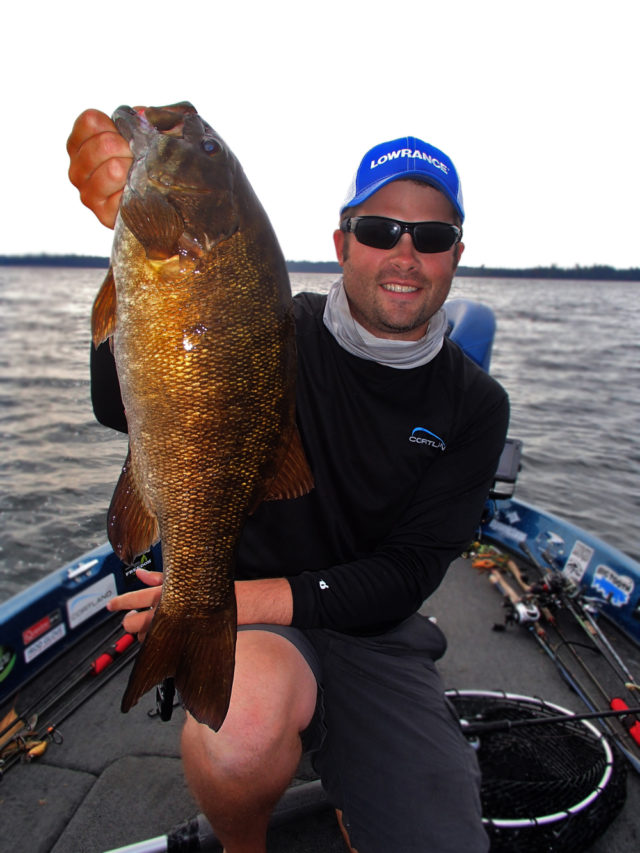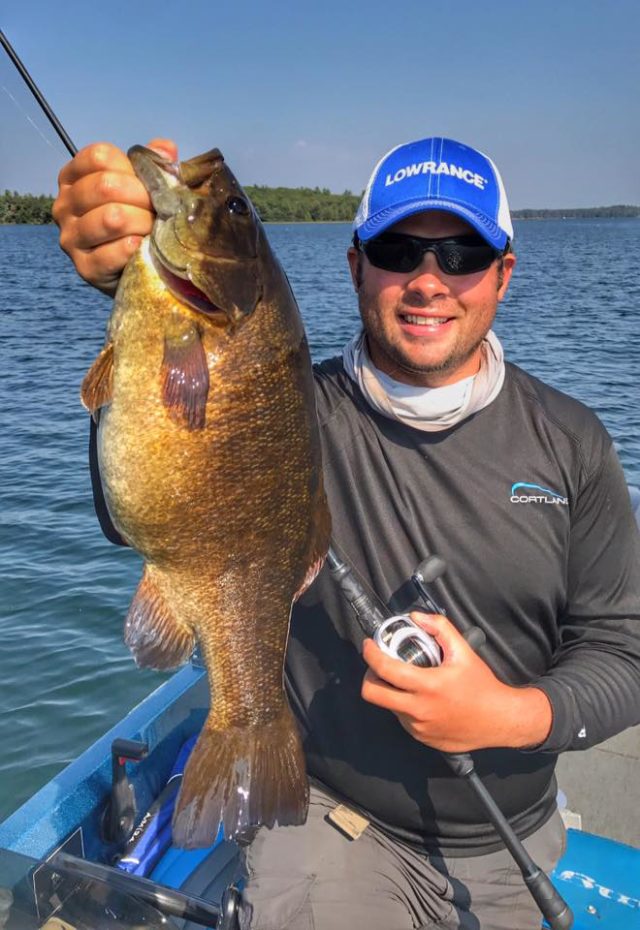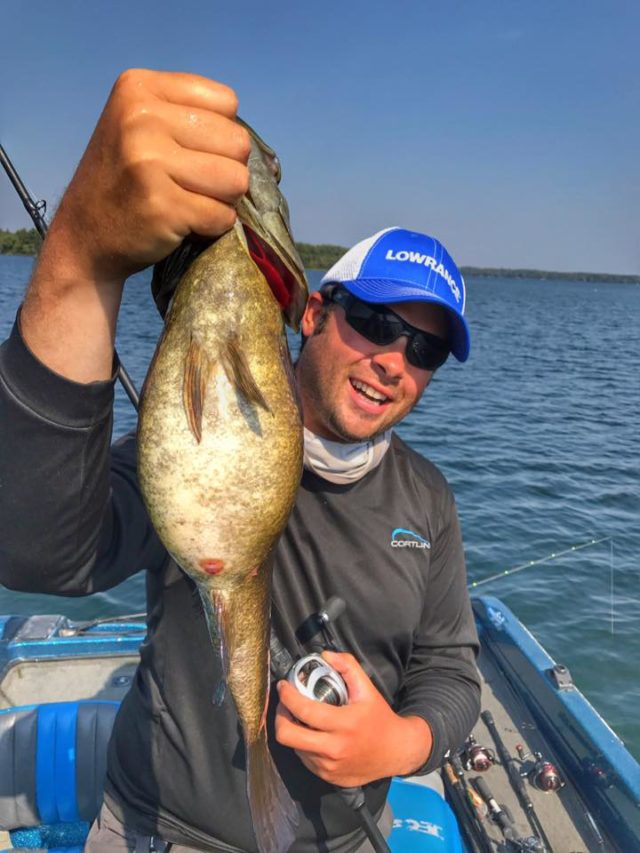 In these same deep water locations, you may also find a crayfish migration taking place, and there's no better way to catch these fish than probing the depths with tube jigs and hula grubs. As water keeps getting colder, these areas will be more in play, as they are usually located in nearby proximity to wintering holes.
For the shallower fish, I have sensed a habitat preference of deeper rock and boulders, and wood. Most fish are being caught on deep diving cranks, squarebills (when shallow), coffee tubes and Chompers hula grubs jigged and dragged with heavier heads such as a football style jig, and Freedom Tackle Corp. Zodiac jigs.
The bigger, hungrier fish have been in the shallows, still foraging for straggler crayfish and busting baitfish. They've been active, packing on the pounds with the recent nice weather we've had.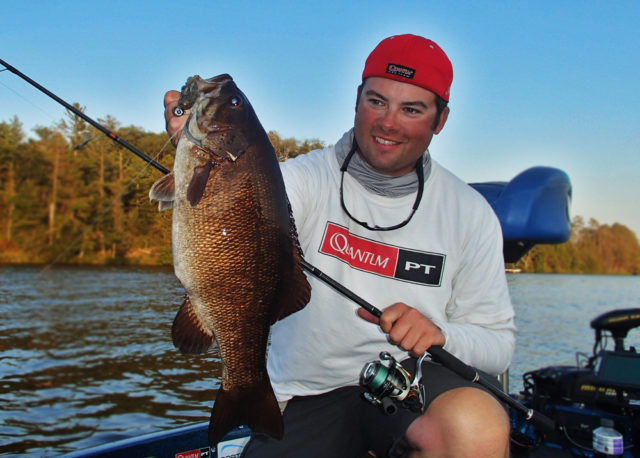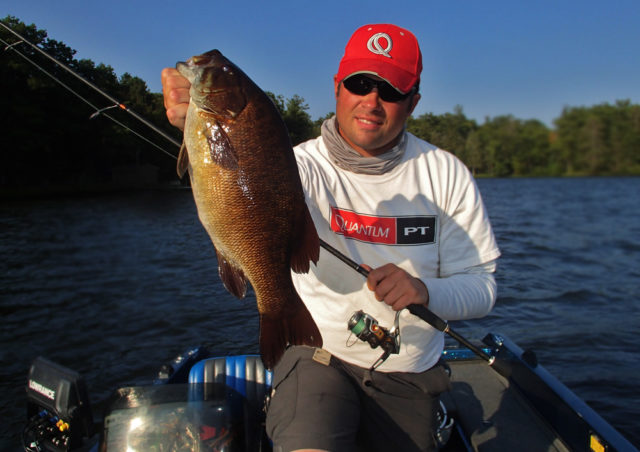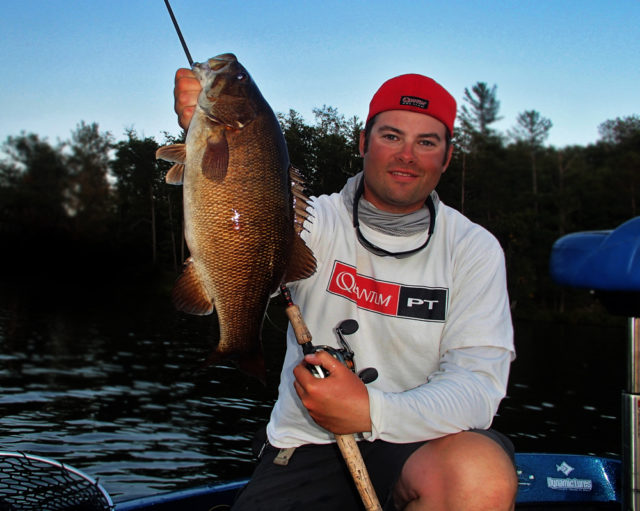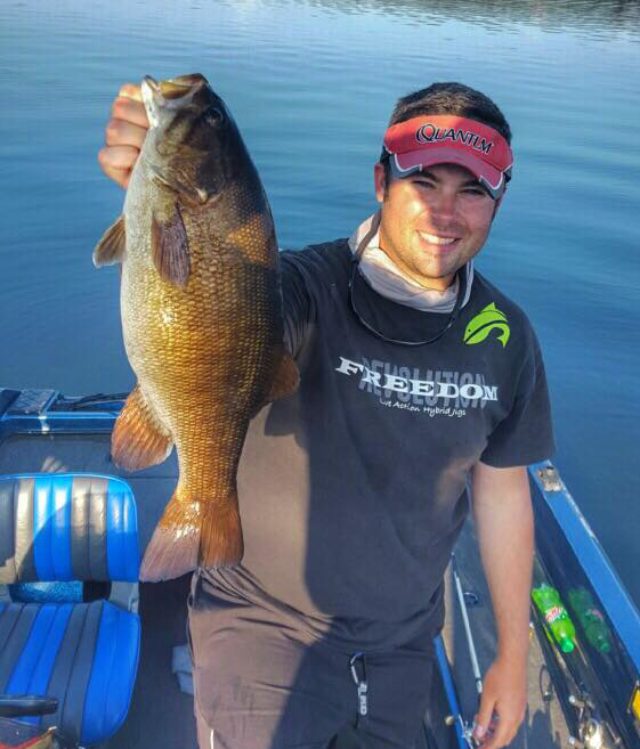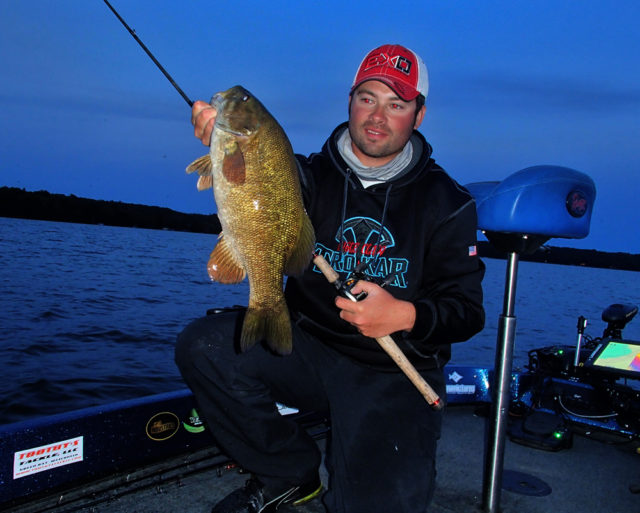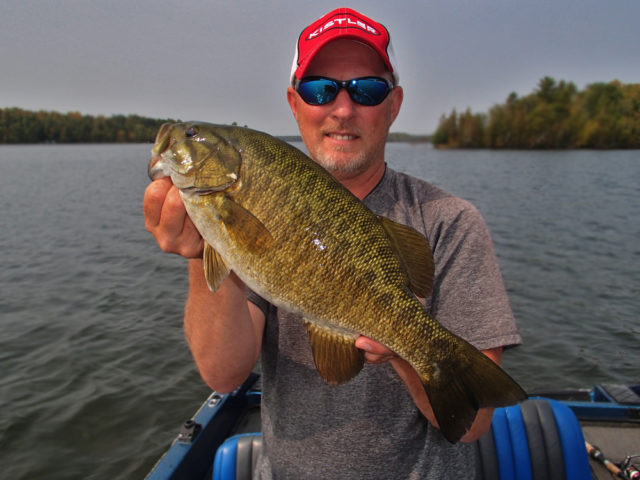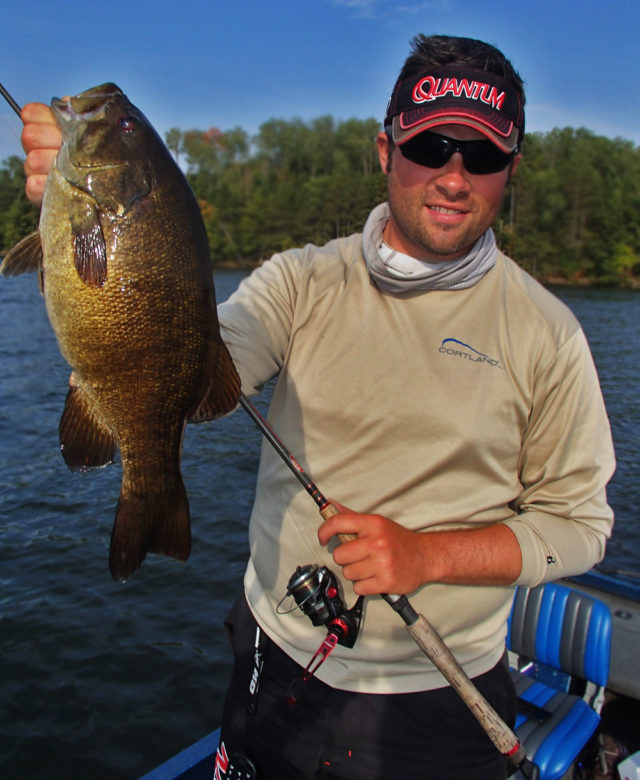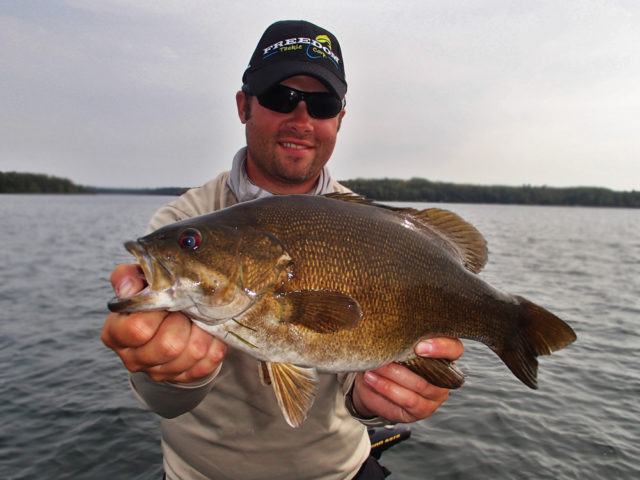 On August 31st, I Caught My pb Smallmouth Bass.
Some of you have known that my benchmark for a major giant smallie is 22″. These sizes are rare for anywhere in the north. I've come close a few times, but have never reached or eclipsed the goal. I have been seeking a specimen of magical proportions for the last handful of years. Yesterday afternoon, shaken in disbelief and almost passed out on my front casting deck for almost 30 minutes after it happened, I can finally write I did it.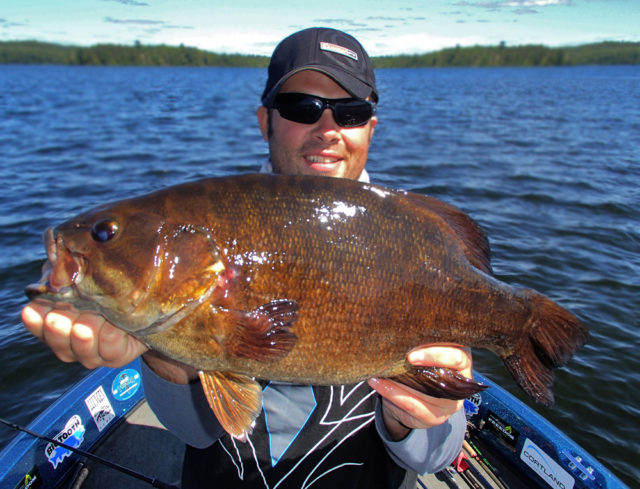 She measured 22″, and a few ounces short of 7 pounder status. #6.85 on the digital scale. No doubt in my mind she's as close as it gets to being 8lbs at prespawn, or post-turnover.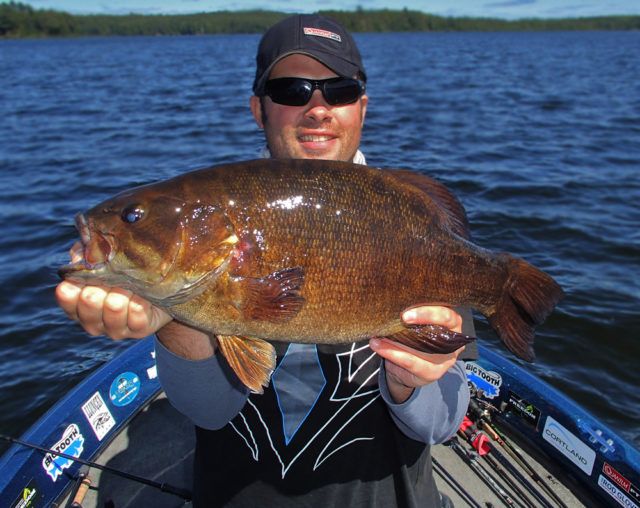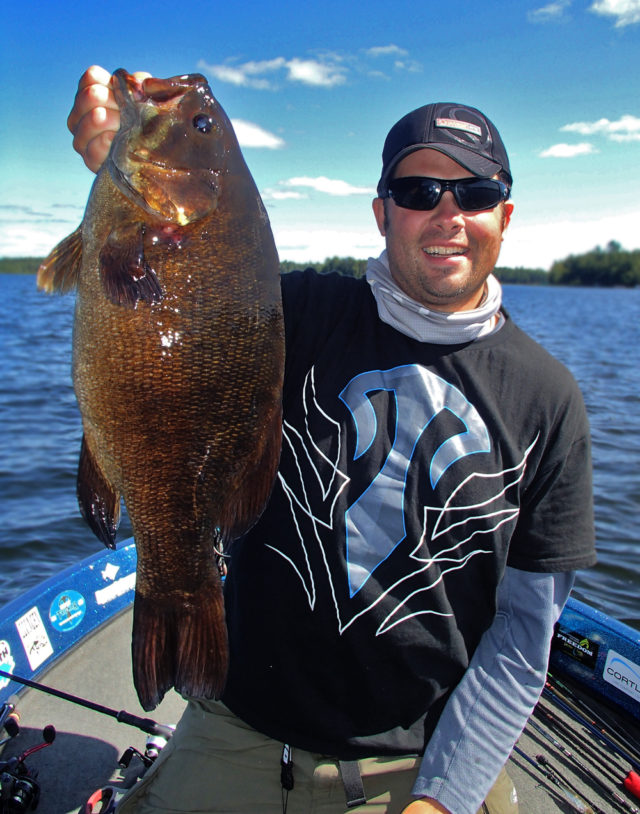 Trophy hunts will humble you more than reward. On a lousy bluebird, cold post frontal day, It was the only bite of the day.
This summer I've been doing a lot more open water fishing than usual, and finding a very good Cisco feeding pattern taking place on some lakes. Open water fishing isn't for the majority. It involves identifying big fish spots along midlake structures and contour, following Cisco schools with side imaging, and positioning and casting into these bait traveling/ predator feeding alleyways. Lots of casting too. In most scenarios, I have observed these big bass being solitary feeders, and often holding near deep structures as ambushing points.
After some quick documentation for a replica mount (my excuse to get a first), she happily swam away to continue on in life as an old 20+ year old fish.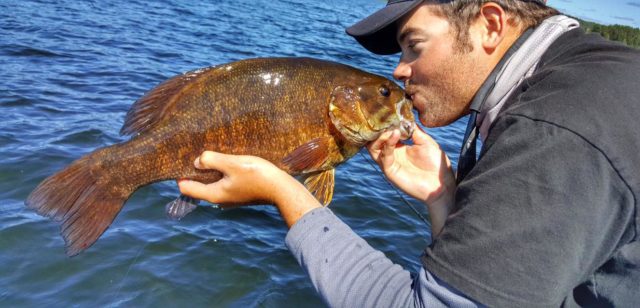 This is what it's all about.
Despite some weather changes this week, the water temps will remain in the low to mid 60's. Fish are still holding on shallow and mid-depth humps and rock structures. Some are also on wood and cribs too. Where deep weedlines remain healthy and young of year perch are schooling, SMB and LMB have followed to these same locations for feeding. Expect some movements taking place this week, but not until the first major cooldown of fall, and when turnover time comes (at 55-60 degs).
I am currently off the water until Monday 9/25. To those of you who have been early fall bass fishing this week, if you find the right lake where prey and predator are both active together, you will enjoy extraordinary fishing once dialed in. If one lake is poor and lifeless, jump on to the next.
Good luck to everyone this week. Hopefully the fall season brings us continued quality bites.
Whether seeking trophies, or looking for a challenging experience in learning new water, early autumn until fall turnover is my favorite time of year for giant bass. We have a fair number of crappy days to look forward to and deal with. But then I actually catch some of my biggest and best bass of the year during warm'ish sunny indian summer days like this month's report highlights……
END OF YEAR FALL DATES AVAILABLE:
My 2017 guiding season concludes the first week of October. I am currently booking all remaining September dates, and those that are open first week of October.
Last bass trip of the year will probably be October 6th, but I will be making myself available for short notice end of October dates too – weather and conditions and fish locations permitting.
Upcoming remaining open dates:
September 25, 26
October 2, 3, 4, 5
Mid October and end of October dates can be available starting October 17th, under short notice and applicable conditions only. This will be largely dependent on water temps, weather, and locations. Following post-turnover, usually by mid October, when water temperatures are in the low 50's my season is all but over as I don't enjoy catching deep water, wintering smallmouths. Neither do I like exploiting their locations and vulnerability, as these fish need better protection from meat hunters and head clubbers. This world class resource needs to be treated with respect and care so it stays this way.
Thank you to all for making 2017 an unforgettable season. If interested in dates that are not shown, or which I may be unavailable, contact anyways and we can make arrangements.
Until then we'll be on the trophy hunt for some fall giants as they transition into fall patterns and prepare to winter.
Please practice catch and release on all smallmouth bass. Help educate to others, locals, and other guides the value and excitement of these sportfish. We release every bass we catch, and I reserve the right to void trips if intentions are keeping and depleting the resource.
Andrew Ragas
Northwoods Bass Fishing Adventures, LLC
Licensed and Insured
Specializing in Northern Wisconsin inland bass fishing
tel: 708-256-2201
email: andrew@northwoodsbass.com
web: www.northwoodsbass.com
Comments
comments